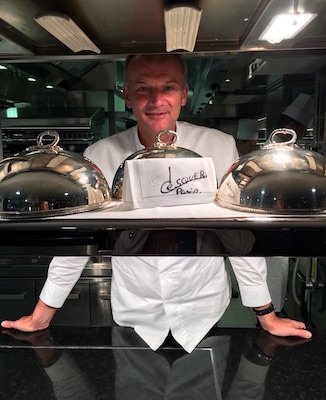 Chef Christian le Squer
Executive chef of Le Cinq
Paris, FRANCE
www.restaurant-lecinq.com

Christian Le Squer has fond memories of his childhood in Brittany, surrounded by the countryside and the sea. His passion for cooking dates back to when he worked as a sailor, when mealtimes were special moments in life aboard the ship. Chef Christian joined the Le Cinq restaurant at the Four Seasons Hotel George V in 2014. He holds 3 Michelin stars for two consecutive years and the restaurant ranks 5 toques by Gault & Millau. He considers himself a craftsman working to evoke the right emotions in a new way. Challenging the pre-conceived ideas of flavor and modality in creating each dish.
Chef, the person
Pet peeves, culinary beliefs and other thoughts to our quick fire questions!

Q: Most memorable/embarrassing incident at your restaurant?
A: with a laugh, "When the server presented a dish to the table and the dish slid off the plate on to the carpet."
Q: What ingredient surprised you the most?
A: "Rice. When I visited Japan, I was presented with seasonal rice that was just harvested 2 weeks before. I was surprised by how complex and different rice flavors can be."
Q: Favorite meal/city during your travels?
A: "Apart from Brittany (home!), it will be Kyoto, Japan. The city is full of culture, tradition, lovely monuments and excellent cuisine. It was like traveling back in time."
Q: If you were allowed to cook just one dish for the rest of your life, what would it be?
A: "That is a tough one… maybe fish. Quality fish, prepared raw and as close to nature as possible."
Q: Biggest pet peeve about diners?
A: "Our dishes bring flavor, texture and temperature together and we tell our customers to eat everything in one bite. It is very sad to see a customer taste each individual ingredient on the plate separately."
Q: If there is one chef whom you would love to work with, he/she would be?
A: "Hmm I would love to get inspiration from a very different cuisine and new cuisine to me. For example, a chef who does indian cuisine."
Q: What would you be if you were not a chef?
A: "Perhaps a haute couture designer, or a perfumer. I will still be a creator."

---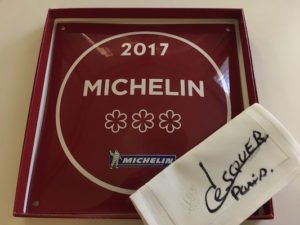 Thank You chef for agreeing to this interview with Gourmet Trails. And to Nathalie for being the important translator of our animated conversation. It was a pleasure to spend time with the both of you


Let's dine there!
Revisit Paris (like a local) and then off to the French countryside for a different kind of charm. Or here's another idea, PERU via PARIS! Our epic journey begins in Paris and its gastronomic Michelin-starred institutions. Then a direct flight to Peru: beyond the country's natural beauty and iconic Macchu Picchu, feast on innovative cuisine by World's 50 Best chefs and savor new tastes from a new continent
Gourmet Trails® – holiday for food lovers
0